Transcription of the article "The Sustainability Edit, 2020 Edition, published at the Purse Blog.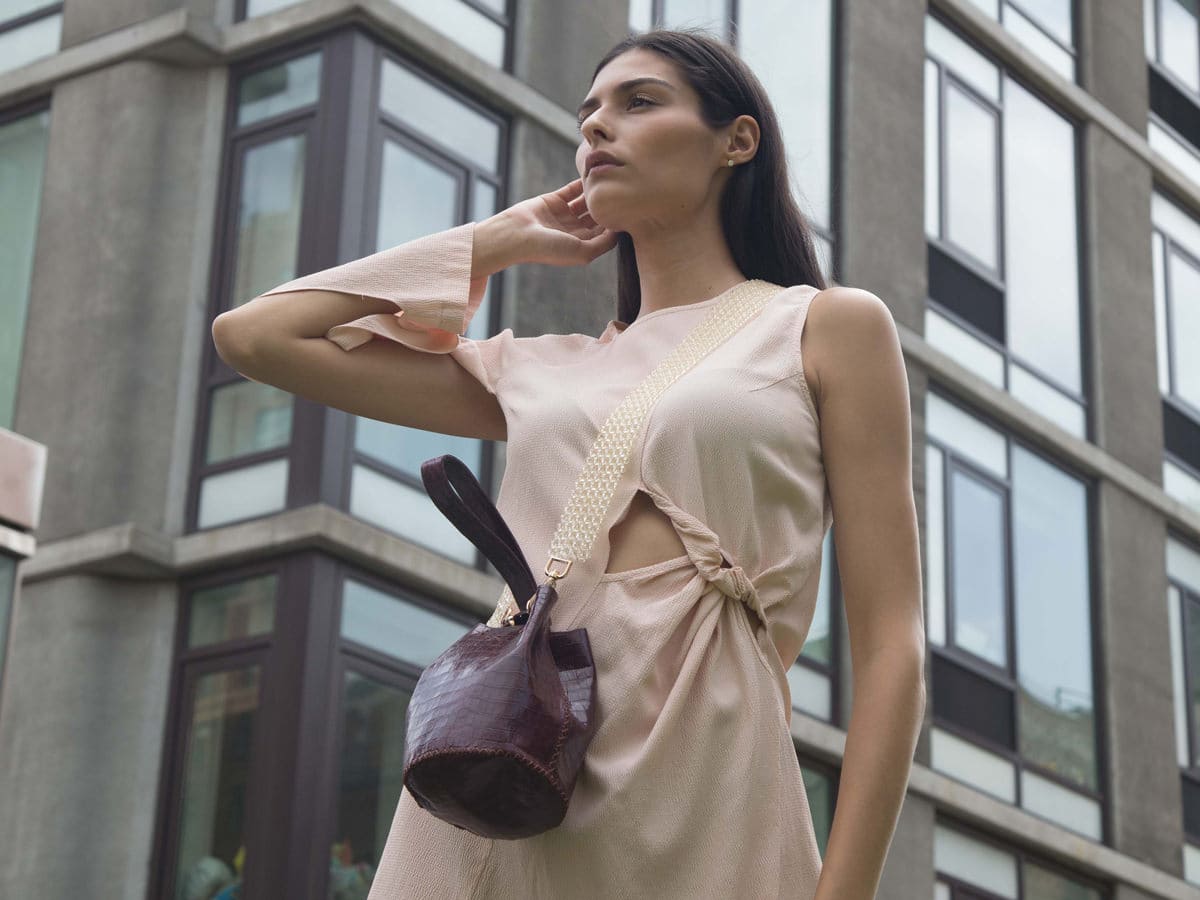 The start of a new decade brings both new challenges as well as new opportunities to the fashion industry. Sustainability is an ever growing concern, and for the first time it topped the list as one of the biggest challenges facing the industry in 2020, according to Business of Fashion's The State of Fashion 2020 report.
The report, which was released in late November 2019, states that "the global fashion industry is extremely energy-consuming, polluting and wasteful", and along with a huge challenge comes a bigger opportunity for brands, both new and old.
Consumers have become more aware than ever that what they wear on their bodies and what they carry in their hands has a huge impact on the environment, so it's not at all surprising that they're beginning to shop more consciously and sustainably.
THE GLOBAL FASHION INDUSTRY IS EXTREMELY ENERGY-CONSUMING, POLLUTING AND WASTEFUL
While big name designers such as Prada, Stella McCartney and Simon Miller are all doing their part to produce more sustainable goods, this demand in the market leaves room for new players to make their mark on the industry as well. Social media has helped smaller, indie brands reach consumers on a broader scale, and we found 5 eco-friendly bag brands to watch this year.
VOLTA ATELIER
VOLTA ATELIER creates sustainable designs using upcycled leather sourced from leather discarded by the leather goods industry in Brazil. The accessories are hand-stitched by local artisans. These artisans can be women refugees from Haiti living in South Brazil, victims of domestic violence, or former inmates. Using curated skills, these artisans create unique designs that utilize scrap leather, thus breathing new life into materials that would otherwise be thrown away. Discover more now.
Paradise Row
Paradise Row draws its inspiration from different aspects of society, culture, psychology and the arts, producing a collection once a year that is handcrafted in East London. Paradise Row sets out to preserve the craft of the East London leather industry by partnering exclusively with local creatives. The brand's core and ethics are built on producing locally, handcrafted bags. Shop now via Bergdorf Goodman.
Alienina
Alienina's pieces are handmade in Italy of recycled materials and each piece is unique. Alienina uses techniques inspired by old traditional craftsmanship, which are then interpreted in a modern, contemporary way. The result is nautical inspired pieces that don't harm the environment. Alienina's attention to detail coupled with the use of innovative materials results in an incredibly unique and strong aesthetic. Shop now via LUISAVIAROMA.
EDUN
EDUN's mission is to create high-end, designer products that both celebrate and challenge ethical fashion. Sustainability is at the forefront of EDUN's mission, and EDUN sources materials from mills that minimize their environmental footprint, using organic, recyclable or biodegradable qualities. These mills also use less water as well as solar energy, resulting in products that are less harmful to our planet. Discover more now.
0711
Brand 0711 was founded in 2012 by Nino Eliava and Ana Mokia. Each product is handcrafted by artisans in Georgia. The techniques used by these artisans are passed down from their ancestors. These artisans are elderly women for whom knitting comes as a second nature. Brand 0711 takes traditional weaving techniques and couples them with classic shapes such as bucket bags and tote bags. Shop now via Farfetch.
Kaitlin's love for fashion, and handbags in particular, began at a very young age. Growing up on Long Island, New York, she was no stranger to the fast paced world of fashion that was taking place just out of reach in New York City. She decided to pursue the industry of her dreams and attended FIT in NYC. She holds a degree in Fashion Merchandising with a Minor in English. Working full-time at PurseBlog and combining her two passions, writing and fashion, has been nothing short of a dream.